Animated both by curiosity and enthusiasm of discoverers, Henry Cassirer and I came to each other one day in 1984, in a place that we had neither the one nor the other the use to go to the Institute "Karma Ling", a study center of Tibetan Buddhism located in the former Carthusian monastery of Saint Hugon, near Chambery in Eastern France. Curious about everything and amateur encounters, Henry accompanied his wife, who came here to attend a yoga course, and I accompanied a friend to me, a passionate traveller to the Orient became a diligent practicing Buddhist.
Henry Cassirer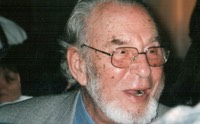 At his 90' Birthday, Annecy, France
I had only a very inaccurate picture of the mission and values of UNESCO. I kept the memory of some journals found in the family home, brochures to typography on green paper with a distinctive smell, populated with references to popular education and secular in which I was bathed. I knew it was a famous International Institution about education, in Paris, far from my roots and my reality as a social worker living in the French countryside. 
And then one day there was an accident, an event that left me paraplegic and removed from any job function at the age of 25, assigned to any place except that of "handicapped". Inhabited by the consequences of my accident and the search for meaning and recognition, I was involved in several volunteer activities with young people in my village, a local radio station and with an association that had created a Reception House specialized in hosting fifty persons swaged in their capacity through illness or accident.
At the first meal in the refectory of the former monastery, Henry Cassirer appeared to me to be surprised by my presence in places which are not wheelchair friendly, to ask about my needs and present his commitment to the associative movement rights of persons with disabilities.
New York, 1985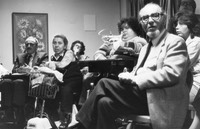 Meeting the American disability leaders with Paul Flexer (Extreme Left) Chair of the French DPO, GIHP
Very impressed with this man of 74 who presented himself to me as a journalist and former Communications Director at UNESCO education, I had expressed the psychological research that I had just started on the consequences of a disabling injury, I led actions to animate and communicate and projects that I lived. I did not know then that I met that day for a partner, a guide and a trainer who will accompany me without interruption for 20 years thereafter.
Deep from experience
Tireless defender of human rights until the last day of his life, December 29, 2004 at the age of 93 years, Henry Cassirer is the inspiration behind the "Panthéon des défenseurs des Droits de l'Homme" whose construction has been started by the French and the international movement of Persons with Disabilities to mark the 100th anniversary of his birth, September 2, 1911.
Steeped in theories of Edith and Paul Geheeb, his grandparents founders of the "school of humanism' and fed from his experience resisting German Hitler and Nazism, Henry Cassirer was projected in the life "torn between the ideals of humanism that was instilled in him since his childhood and the brutal world of that time ", but also filled with a confidence which he attributed to his education, but also austere and rigorous full of deep and sincere interest in others. His life to UNESCO was devoted to the implementation of this why he was hired, namely to promote "cooperation and exchange of experiences between countries in the Third World, focusing on a new approach tapping either the sources of former colonial powers, but in those of their own experiences and ways of living. "()
HenryCassirer & Henry Enns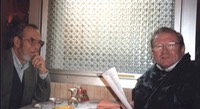 Paris, 1990
This principle is the heart of the "Panthéon des défenseurs des Droits de l'Homme", which aims to gather testimonies of experiences of lives saved and fully lived in hardship and denial of fate. Not from the point of view of those who provide care and taken as an expense, but of men and women who have learned to overcome the limitations of humanism known, not only with the aim of cure, remedy or rehabilitate but to encourage, support and tagged human beings to greater freedom in the shared rights and dignity of each.
Based upon the realities lived from the left outs of the law because they are what they are, charged with limits and potentials which are not in the norm, this place of memory will have a special space on the Internet where everyone can find references and documentary sources that show one of the greatest developments of our century, that of the human being, shape, conditions of its viability and ways of its realization. In an encyclopedic mind and participatory comparable to that network facilitators "Wikipedia", the database of the "Panthéon des Droits de l'Homme" is intended to be supplied by the marvelous DPI network and by some researchers who are in the six world regions which forms its structure.
Appointment procedures and entry to the "Panthéon des Droits de l'Homme" will be issued by the DPI and its partners, a published and updated catalog, and contests or awards will be launched to encourage researchers and institutions to help develop the Pantheon and its resources. Multimedia database as well as memorial library as well as meeting place and discussion, the "Panthéon des Droits de l'Homme" as any collective work will find its future in the will of its members and its wings in the conviction of few.
These are "some" of yesterday just as the "Panthéon des Droits de l'Homme" will bring together to better enhance the impact and achievements, these men and women during their lifetime open the horizon of new territories by illuminating a light turning green sometimes transformative, deserts and often warms the poles. It is called hope, dressed with the hat of Human Rights or the garb surrounded by religious sentiments, the light draws the transformative power of its influence in the stories, testimonials and accomplishments of those who showed the world that he would not or could not see. History is like that of the heroes waiting for recognition, and the force of history is that of its resonance in the present, its contribution to building the future depends on it, what the actors this makes.
To support those who engage in the pantheon of defenders of human rights is therefore designed as a resource stimulant, a source at leisure in which to draw stories of life in which it is possible to recognize and encourage to grow.
Making the most of the defenders of human rights for people with disabilities is to reaffirm the equal value of every human life, regardless of their abilities. Preserve the memory of successful lives with and despite capacity constraints we imagine unsurpassable, is to highlight the genius and potential human face of adversity. Organize and promote the spread of knowledge from experience, is laying the groundwork for a more sustainable culture that knows how to diversify and enrich the capabilities of each.
One of the latest recommendations made to me by Henry, in an email dated August 31, 2002 at the dawn of the mission, was to give me the Minister for Family and Education Chair for the preparation and implementation of French participation in the European Year of People with Disabilities in 2003, was to encourage me to listen not only the representatives of my guardianship authorities, but first and foremost with those who shared living conditions. Not to speak of them, but to us, people in situations of disability, and impaired discriminated solely on the basis of our ability, absent or different. Even today, it is he, Henry, who encourages me to express "our word and our contributions," essential at all stages and rewarding for everyone 
Jean-Luc Simon, Paris, Sept. 2014